What Is Quran Learning Pen?
The Quran Learning Pen™ is an amazing technology that makes Quran reading, learning, understanding and memorizing very easy. No matter your level of Quran reading, you will benefit greatly from this amazing device. Young or old, Arab or non-Arab, beginner or master, the Quran Learning Pen is one device that will make you wonder how you ever lived without it.
Simply by touching the pen on any ayah, surah or page, the pen will start to read in a loud and clear sound.
Quran Learning Pen Improves reading skills for all learners – Maintains the flow of reading as students & non-Arabic people encounter unfamiliar words.
Use the Quran Learning Pen as your reading assistant anywhere, any time. This versatile device may improve Holy Quran Reciting skills dramatically.
With the auditory support provided by the Quran Read pen, frustration and embarrassment disappear. Both struggling and fluent readers rapidly improve their skills in: Fluency, Vocabulary, Comprehension, Spelling, Pronunciation, Academic vocabulary, and Grammatical structure.
The Quran that comes with the Quran Learning Pen is printed in beautiful Uthmanic fonts and the pages are layered with invisible coded grids. The Learning Pen optically detects each unique code on the grid and will read the corresponding Ayat, Page or Surah in beautiful digital sound. When the Quran Learning Pen is pointed at the beginning title of each chapter or Surah, it will read the whole corresponding verse or word by word. This provides a very convenient way to learn, memorise and recite the Quran, all in just 3 easy steps – point, listen and recite.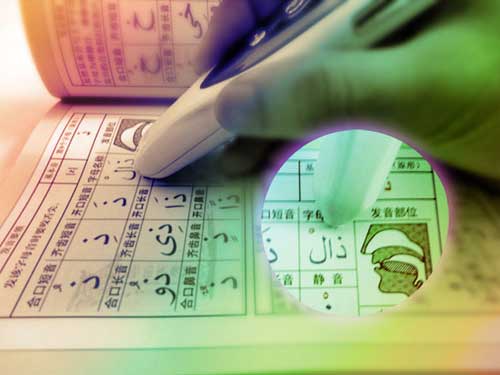 Quran Learning Book Included
The Quran Learning Pen is a big help to every Muslim who wants to learn the book of Allah. No matter your level of expertise. If you cannot read the Arabic script the pen comes with the world famous book Qaaidatu Nooraniyah to help you to read properly.
This book contains Tajweed Rules with pictures and teaches you how and from where to pronounce the Arabic letters. The best thing is Quran Learning pen can read everything on this book enabling your kids to learn Quran in an interactive way.